Do not post bugs or requests to the comments! Use
Trac
.
Tuesday, August 07, 2007
SoC: Bonjour Messaging Updates
I am pleased to tell everyone that file transfer
receiving
now works with Bonjour messaging!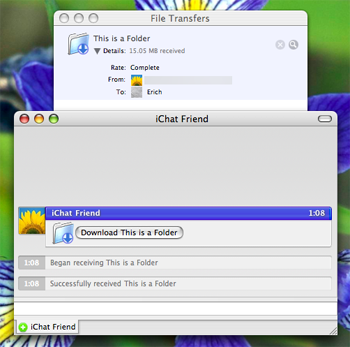 Labels: GSoC2007, GSoC2007-Bonjour
#
posted by
Erich
at 1:43 PM
Comments:
Excellent! This is great news! One less reason to keep iChat running on the side. I have to confess, I don't run Bonjour from Adium because of this feature missing - now I can. Thanks!!!
Post a Comment